English Sounds Code (ESC) for children and adults
The numeric code that uses the sound-box
numbers on the English Spelling Chart.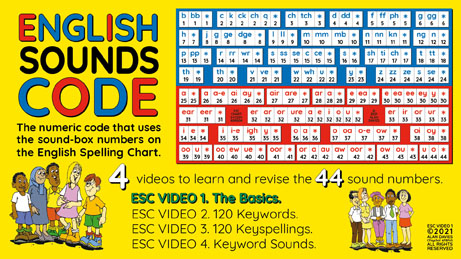 English Keyword Raps
Click the white arrow and then the white square to enlarge the video.
▬ THRASSUK Teaching Videos ▬
These videos help children and adults (as individuals, or in pairs, groups or classes) to better understand the sounds, spellings (keyspellings and non-keyspellings), syllables, consonant blends and rhymes in English words. For pupils, students, student teachers, teachers and parents, these videos are a great way to learn or revise the building blocks of English words.
▬ YouTube ▬
THRASSUK Teaching Videos.
English Alphabet, English Keywords Rap and English 44 Sounds.
English Sounds Code. The ESC Videos.
Where's the Sound? Videos.

▬ pdf downloads ▬
THRASSUK Teaching Videos for Children and Adults
ESC Video Teaching Screens
---
▬ English Spelling Chart ▬
Deskcharts and Wallcharts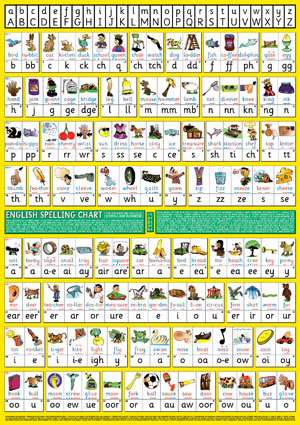 Please click on the English Spelling Chart
image (above) to enter the 'THRASS UK' shop.

THRASS UK is licensed to supply customers in the
UNITED KINGDOM, EUROPE, MIDDLE EAST,
SOUTH AMERICA, CENTRAL AMERICA
(and the Cayman and Caribbean islands), the
USA, CENTRAL ASIA (Pakistan, Afghanistan,
Turkmenistan, Uzbekistan and Kazakhstan) and
also AFRICA - excluding South Africa, Lesotho,
Swaziland, Botswana and Namibia, which since
2011 have been overseen by Bidvest Paperplus.


Privacy Policy